There are a range of training videos on line. See the list.
Go to the Symbiant web site symbiant.uk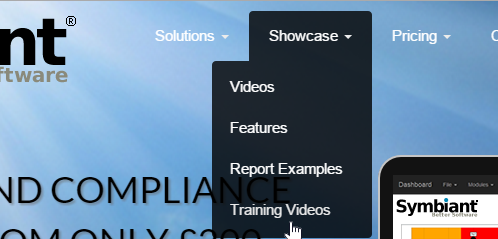 From the main menu under showcase select Training Videos. You can manually go to the URL by using this link https://www.symbiant.co.uk/training-videos/

On the video page you can use the menu to show which videos relate to which section.
Selection include:
Re-branding: Customise to your own requirements
Getting Started: Your first steps
Using the Administration section. Quick overview of the Administration section
Changing Grid Layouts.How to change the grids to include the headers you want to view
Add Audit Questionnaire. Add an audit questionnaire
Add Audit issue to Tracker.add an issue to tracker for audit action tracking
Respond/update an Audit Action. How assignees respond to assigned actions
Risk Basics. Understand the basics of the risk module
Add Risk and Scoring. Add risks and use scoring sets
Failure Simulation. How to use the control failure simulations for capital requirements and risk failure
Incident reporting. Report hits and near misses and attach to risk / controls - create remedial actions
Control Self Assessment. Assess controls to make sure they are working.
Working Papers: how to use the Working Papers
Workshops: How to use the risk workshops.
Overview Videos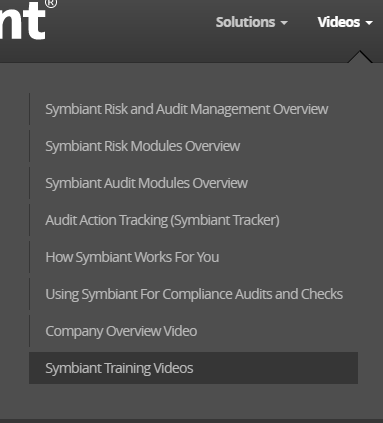 Under the Videos tab on our website we have a selection of overview videos that will help you get a better understanding of our software. https://www.symbiant.co.uk/videos/