All changes are recorded this section explains how to see that information.
There are two way to view changes:

1. Under reports each module has a report of changes where you can view data specific to the module.

2. In the admin section under Data each data type is listed, from here you can archive, recover, restore and remove items. To administrate or use the features click on the selection name or the Change link associated to it.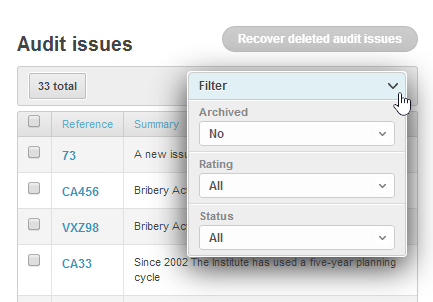 At the top of the page you have the Recover deleted items button, then you have the filter, use the filter to refine your parameters or to view items that have been archived.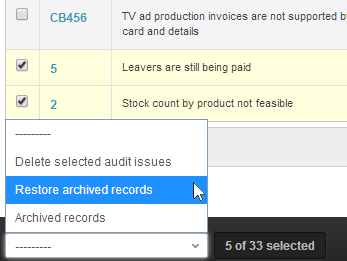 At the foot of the page there is a selection box to perform action on selected items. (to select an item check the box at the start of each line)
Compare Changes or make changes

Select an item by clicking on the reference number

The item detail can now be manually changed or by clicking on the History button you can view historical edits.

To view changes select the dates the changes were made between another date and click on the compare button.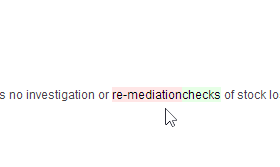 Words highlighted red have been removed and highlighted green been added. So on this example the word re-mediation was removed and the word checks was added.
To revert back to an earlier version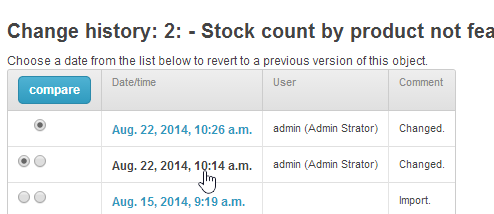 you can revert back to an earlier version of an item by selecting the items time stamp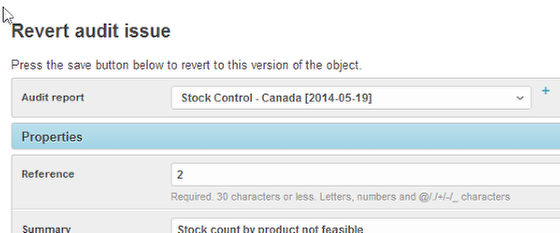 the item will show the text as it was at that time

Click Save at the foot of the page.